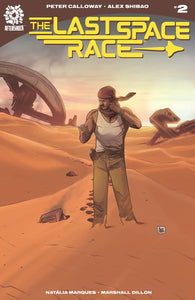 The Last Space Race #02
Regular price
$3.99
$0.00
Unit price
per
It started as an anomaly—an outlier in the noise that's so common in astronomical data. But the truth sends the United States—and the world—careening into what will become humanity's LAST SPACE RACE.
A challenger appears! 
Sasha Balodis isn't the only one that desires to discover the secrets waiting beyond the orbit of Saturn.  His business rival Roger Franklin wants in—and if he doesn't get what he wants he'll tear the whole thing down.
---