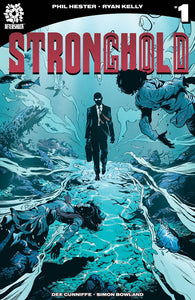 Stronghold #01
Regular price
$3.99
$0.00
Unit price
per
Our planet is actually a prison designed to both trap and shelter an amnesiac alien entity of incalculable power. Now known as Michael Grey, this cosmic angel of destruction currently believes himself to be an ordinary, midwestern insurance underwriter, who belongs to a global secret society dedicated to making sure he never discovers the truth about his past.
To make matters worse, our hero has fallen in love with Michael Grey. And for their love to be born, Earth must die.
Phil Hester (The Coffin, Deathstroke, The Darkness, SHIPWRECK) and Ryan Kelly (The Wicked + The Divine, Lucifer, Saucer Country) weave a tale of cosmic horror, high adventure and tragic romance.
---