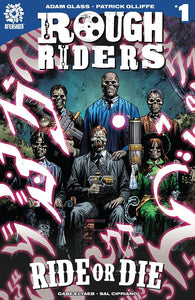 Rough Riders: Ride or Die #01
Regular price
$3.99
$0.00
Unit price
per
Volume Three of the hit AfterShock Series! A great jumping-on point!
It's 1906 and Theodore Roosevelt is the sitting president when a familiar face from his past asks him once again to call upon the Rough Riders to save the world. But this time it's not anarchists or aliens—no, it's something from the great beyond. Something so ancient and inherently evil that the Rough Riders will need to add to their ranks in hopes of defeating it. Who will be the newest historical figure to have the honor to call themselves a Rough Rider?
Created and written by Adam Glass (executive producer of Supernatural & writer of Suicide Squad) with cover by Pat Olliffe (Untold Tales of Spider-Man).
"The story is exciting and fun, with the characters being faithful and fanciful, and the visuals are epic and thrilling. This is what comic books are all about!" – Patrick Hayes of scifipulse.net
---