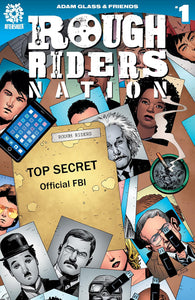 Rough Riders Nation #01
Regular price
$3.99
$0.00
Unit price
per
Executive Order 13526, issued on December 29, 2009, intended to increase government transparency and regain trust with U.S. Citizens. It led, in turn, to the creation of the National Declassification Center, a sub-section of the National Archives and Records Administration (NARA).
Suddenly, thousands of top-secret files were declassified and made available to the public. One such file confirmed the validity of a long-thought tale that Theodore Roosevelt had created a momentous team of the greatest citizens of his time—which he named the "ROUGH RIDERS"—to fight for America in its darkest hour. Not only was the tale true, but the dossier also exposed that the Rough Riders did not end with Roosevelt but rather were continued throughout history by his daughter Alice, who, like her father, called upon America's greatest to band together in its most desperate time of need.
If you choose to accept, take a look inside this file and see those who have had the honor to be called a ROUGH RIDER. If you decline, these confidential files will self-destruct.
---