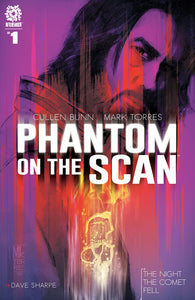 Phantom on the Scan #01
Regular price
$4.99
$0.00
Unit price
per
Twenty years ago, a comet fell to earth. Since that night, Matthew has been haunted – haunted by a spirit that gives him incredible psychic abilities. But these abilities come with a price…and payment is due.
Every time Matthew uses his gifts, he draws closer to death, and other psychics – all of whom gained their powers on the night the comet fell – are dying in the most horrible of ways. To save himself, Matthew gathers a group of psychics to solve the mystery of their powers before it's too late.
A new dimension of horror brought to light by master storyteller Cullen Bunn (DARK ARK, UNHOLY GRAIL, BROTHERS DRACUL, PIECEMEAL) and illustrated by Mark Torres (Teenage Mutant Ninja Turtles, Judge Dredd, The Shrinking Man), the team responsible for the psychological terror thriller, Cold Spots.
---