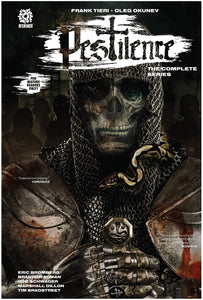 Pestilence: The Complete Series Hardcover
Regular price
$39.99
$0.00
Unit price
per
The men of Fiat Lux—the assassin's arm of the Church—have been dispatched to deal with a situation involving a renegade crusader and his army. Little do they realize a far more important mission soon awaits them. It is a mission that will have them traversing throughout medieval Europe, all in an attempt to stop a deadly plague that will eventually wipe out over sixty percent of that continent's population.
But is it really a plague? What if history was a lie, and if the truth was something far more sinister…?
Written by the master of violence, gore, and mayhem, Frank Tieri (Harley Quinn, Marvel vs Capcom, Wolverine, Deadpool), with spectacular art from illustrator Oleg Okunev, and covers by Eisner Award-nominated artist Tim Bradstreet (The Punisher, Hellblazer)!
"…a refreshing new take on the zombie genre. It really drives home the claustrophobic onslaught of the undead." — HorrorTalk
---