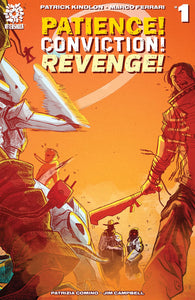 Patience! Conviction! Revenge! #01
Regular price
$3.99
$0.00
Unit price
per
Disregarded, disrespected and dismissed, Renny has a chip on his shoulder.
Once an equal partner in a criminal syndicate that rules Las Vegas, he now finds himself living in a shack in the desert. But the shack has a workshop, and Renny's been busy. It's time to march his robot army into the neon hell of a cyberpunk Vegas and retake his seat at the table. Or take the wood from the table and build enough caskets for the whole syndicate.
Old friends better run, because Operation PATIENCE! CONVICTION! REVENGE! is underway.
Like an Elmore Leonard novel set in the world of Blade Runner, PATIENCE! CONVICTION! REVENGE! is offbeat and often funny, but all about the dark corners of cities and minds. A violent criminal genius with a bad case of monomania makes for the most fun you'll have with a comic this year.
---