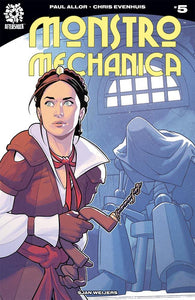 Monstro Mechanica #05
Regular price
$3.99
$0.00
Unit price
per
Leonardo and Isabel return to Florence to take on new roles and new responsibilities. As Leonardo faces renewed pressure from both Florence and Rome, Isabel realizes that something needs to change—and fast!
But before all that: Girls' night out!
From creators Paul Allor (Teenage Mutant Ninja Turtles) and Chris Evenhuis (Wynonna Earp) comes this swashbuckling adventure story about war, identity and the birth of the modern world that HAD to be told at AfterShock!
"MONSTRO MECHANICA" is a swashbuckling adventure story, filled with humor, pathos and giant wooden robots, that has something to say about humanity and society. It's also incredibly fun, and filled with absolutely gorgeous art. You're going to love it!" —Paul Allor.
---