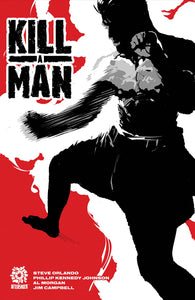 Kill A Man OGN
Regular price
$17.99
$0.00
Unit price
per
The Truth is Worth Fighting For
As a child, James Bellyi watched his father die in the ring as payback for slurs he threw at his opponent. Today, James is a Mixed Martial Arts star at the top of his game, and one of the most popular fighters in the world…until he's outed as gay in his title shot press conference.
Abandoned overnight by his training camp, his endorsements, his fans and his sport, to regain his title shot, Bellyi is forced to turn to the last person he ever wanted to see again: Xavier Mayne, a gay, once-fighter in his own right…and the man James watched kill his father.
A singular achievement from writers STEVE ORLANDO (Martian Manhunter, DEAD KINGS) and PHILLIP KENNEDY JOHNSON (Aquaman, Adventure Time, The Last Time), and artist AL MORGAN (Midnighter, Daredevil, Battlestar Galactica).
"…an exceptionally gripping read from the very first page…If you have any interest in comic book storytelling you should be reading this." – Darryll Robson, Monkeys Fighting Robots
---