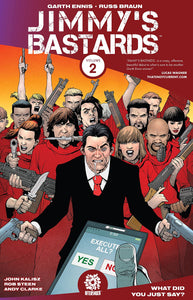 Jimmy's Bastards Vol 2: What Did You Just Say? TPB
Regular price
$14.99
$0.00
Unit price
per
Jimmy Regent, Britain's number one super-spy has got it all: intrigue, adventure, a license to shoot whoever he likes and beautiful women falling at his feet. But there's a price to pay for Jimmy's multiple romantic conquests – the results of which have come calling in the worst possible way…
How the mighty have fallen: Finally triggered into his safe space by the ghastly revelations of his evil offspring, Jimmy Regent finds himself locked away in a rubber room. But as Jimmy starts his new life bouncing off the walls, Nancy uncovers the truth behind our hero's gruesome fate – and realizes she's going to have to handle the bad guys solo.
"Jimmy's Bastards…is a crazy, offensive, beautiful debut to what is sure to be another Garth Ennis winner!" – Lucas Wagner of thatsnotcurrent.com
Written and created by Garth Ennis (Preacher, The Boys) with art from Russ Braun, Jimmy's Bastards volume 2 collects the entire thrilling second arc – issues #6-9.
---