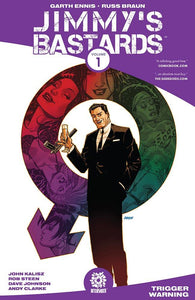 Jimmy's Bastards Vol 1: Trigger Warning TPB
Regular price
$14.99
$0.00
Unit price
per
Collecting the first five issues of this hit AfterShock series!
Jimmy Regent, Britain's number one super-spy, has got it all: intrigue, adventure, a license to shoot whoever he likes and beautiful women falling at his feet. He also has a new partner who isn't quite as impressed by Jimmy as all other women appear to be. Now, there's a price to pay for Jimmy's multiple romantic conquests — the results of which are about to come calling in the worst possible way…
From the creator and writer of Preacher and The Boys comes the brand-new series that HAD to be told at AfterShock Comics.
"Jimmy's Bastards...is a crazy, offensive, beautiful debut to what is sure to be another Garth Ennis winner!" – Lucas Wagner of thatsnotcurrent.com
---