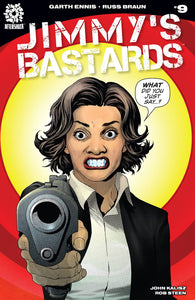 Jimmy's Bastards #09
Regular price
$3.99
$0.00
Unit price
per
The final battle between Jimmy and his offspring goes all the way to the edge of sanity and beyond. Even if our heroes get out alive, can normality ever really be restored? And is there more to Jimmy Regent's legacy than the man himself suspects?
"JIMMY'S BASTARDS…is a crazy, offensive, beautiful debut to what is sure to be another Garth Ennis winner!" - Lucas Wagner of thatsnotcurrent.com
From the creator and writer of Preacher and The Boys comes the brand-new series that HAD to be told at AfterShock Comics.
---