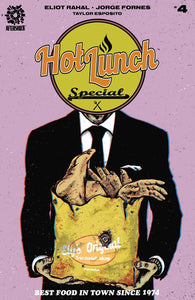 Hot Lunch Special #04
Regular price
$3.99
$0.00
Unit price
per
A midwestern noir series set in the harsh landscape of the northern Minnesota Iron Range—HOT LUNCH SPECIAL is all about family, food and the fight for survival. Only one question is worth asking...is blood thicker than sandwiches?
Dorothy Khoury has accidentally created two more dead bodies.
The number one problem with most corpses is…they're super hard to get rid of. Now, the frightened Khoury family must cover up the trail of blood they're leaving behind, while also projecting strength. They finally have a hostage they can use to negotiate an end to the war with the Moran Family Mafia.
---