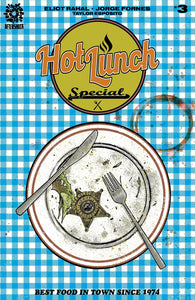 Hot Lunch Special #03
Regular price
$3.99
$0.00
Unit price
per
A midwestern noir series set in the harsh landscape of the northern Minnesota Iron Range, HOT LUNCH SPECIAL is all about family, food and the fight for survival. Only one question is worth asking...is blood thicker than sandwiches?
There are no secrets now. Only bodies. It's dinner time, and Dorothy and Jordan are competing to sit at the head of the table, both forcing their family members to make hard decisions. Do the Khourys go to the cops? Or do they go to war? The Khoury criminal legacy is fully revealed.
Some choices have already been made--the Irish crime lord, Big Jim Moran, is getting anxious. He's left too many loose ends, and he's forced to cut the strings. The order has been given. It's time for everyone to die.
---