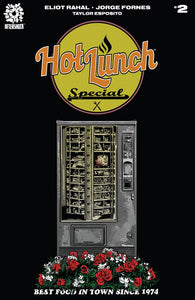 Hot Lunch Special #02
Regular price
$3.99
$0.00
Unit price
per
Liam Moran, the son of notorious Irish Mobster "Big Jim" Moran, was only supposed to send a warning. A machine gun message to the Jordan Khoury: Pay up or pay the price. Unfortunately, things went sideways, and now…someone is dead. Broken hearts and bitter questions are left in the wake of his untimely murder. But before they can be addressed, it's time for a fractious Khoury family funeral.
An outcast son will return home, a mother will mourn, and a guilty grieving grandfather will finally reveal his dark criminal secret.
From Eliot Rahal, the writer of Cult Classic, The Paybacks and Quantum & Woody comes HOT LUNCH SPECIAL, with art by Jorge Fornes (Amazing X-Men, Wolverine, Magnus)! A midwestern noir series set in the harsh landscape of the northern Minnesota Iron Range—HOT LUNCH SPECIAL is all about family, food and the fight for survival.
---