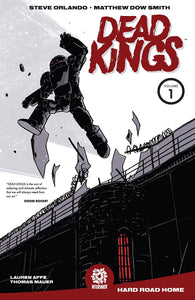 Dead Kings Vol 1: Hard Road Home TPB
Regular price
$14.99
$0.00
Unit price
per
Thrice-Nine took Sasha's brother, and it took Maria's heart.
Plagued by the ramifications of a techno-magic world now thirty years gone, Thrice-Nine limps along, degenerating into paranoia and poison. Sasha Vasnetsov thought he'd escaped all that, but when news comes that his younger brother has been kidnapped by the secret police, he drags himself back into the madness with a simple goal — to find his brother.
But Sasha is going to need help to do this, and he enlists Maria Kamenaya, a former warrior with hundreds of enemy kills to her name, who was betrayed by the very country she served. This quest is how they get both of those things back, in the lawless land of decapitated states…the land of DEAD KINGS.
Written by Steve Orlando (Batman/Shadow, Crude, Midnighter, Virgil) and drawn by Matthew Dow Smith (October Girl, Suicide Squad, X-Files) DEAD KINGS is an in-depth exploration of retribution, in all its dark, complex forms.
"DEAD KINGS is the sort of sobering and intimate reflection that we will always need from our art." – Doom Rocket
---