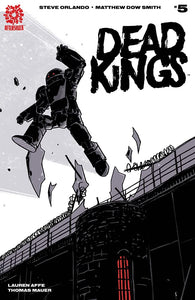 Dead Kings #05
Regular price
$3.99
$0.00
Unit price
per
AN EXPLOSIVE FINALE IN THE ASHES OF A FALLEN EMPIRE!
The wreck of the Rus Empire is a violent, rusted sprawl cut across an aging continent. The Oprichnik Secret Police hold a fragile order in place by removing all the socially dissident from society...these are the Chorts, the scapegoated devils of the new word...and they deserve freedom. DEAD KINGS brings it to them.
On the border of a dried up Black Sea, Sasha Vasnetsov and Maria Kamenaya have brought war to Barracks 33 to free Sasha's brother Gena. As the barbed wire fences fall, a family reunites in the furnace of rebellion - they may free thousands, but is it too late to save their brotherhood?
Steve Orlando (Wonder Woman, Shadow/Batman, Midnighter, CRUDE) and Matthew Dow Smith (October Girl, Suicide Squad, X-Files) keep punching with captured hearts and torn fists in this post-POST apocalyptic tale.

---