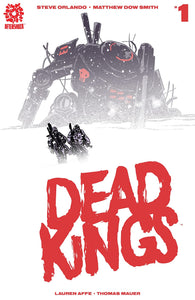 Dead Kings #01
Regular price
$3.99
$0.00
Unit price
per
Thrice-Nine took Sasha's brother, and it took Maria's heart.
Plagued by the ramifications of a techno-magic world now thirty years gone, Thrice-Nine is a dirty folklore world that limps along, degenerating into a place filled with par-anoia and poison. Sasha Vasnetsov thought he'd escaped all that, but when news comes that his younger brother has been kidnapped by the secret police, he finds him-self dragged back into the madness with a simple goal—to find his brother.
But Sasha is going to need help to do this, and he enlists Maria Kamenaya, a former warrior with hundreds of enemy kills to her name, who was betrayed by the very coun-try she served. This quest is how they get both of those things back, in the lawless land of decapitated states...the land of DEAD KINGS.
---