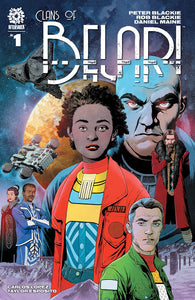 Clans of Belari #01
Regular price
$4.99
$0.00
Unit price
per
PRIMARY LAWS OF THE BELARI SYSTEM:
No person or Clan may exit the system.
No person or Clan may do the Designated Work of another Clan.
Clans may not merge.
Any person that breaks a Primary Law shall be made Outcast.
On the far side of the galaxy, an isolated branch of humanity is trapped in a feudal dystopia. Order is maintained by a system of oppression, until an orphaned girl and her incorrigible adoptive father sow the seeds of a revolution and unite the clans against a fearsome alien threat.
From Rob Blackie and Peter Blackie (creators and writers of Netflix's historical action-adventure series, Frontier) and artist Daniel Maine comes this vast and enthralling sci-fi adventure.
---