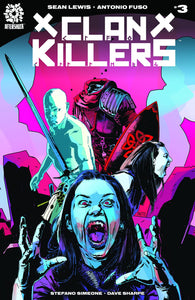 Clankillers #03
Regular price
$3.99
$0.00
Unit price
per
Like the demented stepchild of Game of Thrones, Braveheart and Mark Millar's Kick Ass, CLANKILLERS brings readers into an ancient Ireland filled with clans, mystics, warriors and monsters of mythic proportion!

Your favorite medieval pair get into darker musings as Finola and Cillian find themselves face-to-face with the Ancient Dearg of Celtic myth. These powerful forefathers to Vampires do not take kindly to strangers, and especially not strangers who want to murder them dead. Meanwhile, Valor's whispers continue to play on Padraig the Grotesque as his daughters and kingdom wonder how long they can live in fear of a madman.
From writer Sean Lewis (BETROTHED, The Few) and artist Antonio Fuso (James Bond, G.I.Joe) comes a revenge thriller that HAD to be told at AfterShock!
---