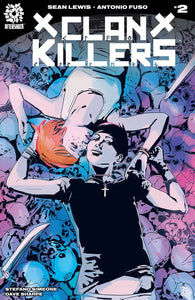 Clankillers #02
Regular price
$3.99
$0.00
Unit price
per
Like the demented step child of Game of Thrones, Braveheart and Mark Millar's Kick Ass, CLANKILLERS brings readers into an ancient Ireland filled with clans, mystics, warriors and monsters!

Finola and Cillian track down the famed Dullahan—the headless horseman of the Irish countryside! At home, Padraig is unleashing his wrath on anyone who comes near, even as his daughters' own powers and villainy are beginning to rise against him. The body count also rises and the mythology expands in this next chapter of this hit new series!
From writer Sean Lewis (BETROTHED, The Few) and artist Antonio Fuso (James Bond, G.I.Joe) comes a revenge thriller that HAD to be told at AfterShock!
---