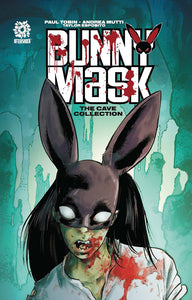 Bunny Mask: The Cave Collection HC
Regular price
$39.99
$0.00
Unit price
per
Collecting the first two volumes of the hit horror series in one sensational hardcover edition!

Sealed in a cave before the dawn of man, released by a crazed madman, Bunny Mask walks our world once more. But for what dark purpose does she use her unnatural powers? And what's her connection to Bee Foster, a young girl murdered by her father fourteen years ago? In order to save his life – and his sanity – Tyler Severin will have to discover the truth of what lies behind the mask.

And once she's free from her cave and moving through the city, searching for sickness and enacting her own unfathomable sense of justice, can Tyler Severin control her? Does he even want to? The answers are still hidden, but what's clear is that Bunny Mask is here to grab you by your eyeteeth, and never let go.

Writer Paul Tobin (MY DATE WITH MONSTERS, Colder) and artist Andrea Mutti (MANIAC OF NEW YORK, Hellblazer) have unleashed an eons-old legend upon an unsuspecting world – one that'll make your most horrific nightmare feel like a walk in the park!

This hardcover collection contains both volumes, BUNNY MASK: THE CHIPPING OF THE TEETH, issues #1-4, and BUNNY MASK: THE HOLLOW INSIDE, issues #1-4, plus "making of" content, including Andrea Mutti concept art!
At Comic Shops November 15, 2023
---