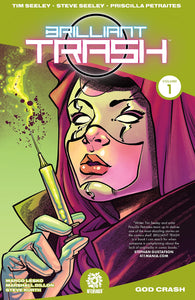 Brilliant Trash Vol 1: God Crash TPB
Regular price
$17.99
$0.00
Unit price
per
Collecting all six issues from the first story arc.
In the near future, a super-powered teenage girl wipes the heavily disputed Old City of Jerusalem off the map. Now, in the politically charged world of the "Lady Last Word Incident", a click-bait headline writing "journalist" holds the key to a med-tech conspiracy that could allow people buy superpowers for the cost of days off their lifespan.
From Tim Seeley (Revival, Grayson) and breakout art sensation Priscilla Petraites, comes the series that HAD to be told at AfterShock Comics!
"Writer Tim Seeley and artist Priscilla Petraites put team up to deliver one of the most dazzling stories on the comics shelf." – Stephen Gustafson of 411 Mania
---