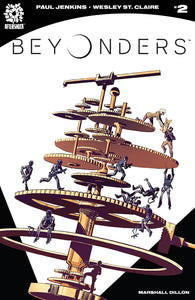 Beyonders #02
Regular price
$3.99
$0.00
Unit price
per
With his one-eyed, genetically enhanced Welsh Corgi in tow, Jake finally confronts the secretive underground resistance known as the Beyonders. And as the global conspiracy to end all conspiracies begins to unfold, Jake finds himself unraveling a mystery thousands of years in the making, with a long-hidden prize waiting to be found.

National Treasure meets the Da Vinci Code—BEYONDERS is a story of the greatest, most epic treasure hunt of all time…and it contains its very own treasure hunt!

From Paul Jenkins (ALTERS, Wolverine: Origin, Sentry) and Wesley St. Claire (FU JITSU, Teen Titans) comes the mystery series that HAD to be told at AfterShock!
---