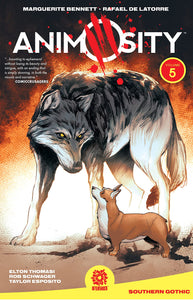 Animosity Vol 5: Southern Gothic TPB
Regular price
$16.99
$0.00
Unit price
per
One day, the Animals woke up.
They started thinking.
They started talking.
They started taking revenge.

The Animals rest and consider their path. Where have they come from? Where can they go? When they were taken from the wild, how did their fates change humanity forever. What will they be-come?

From the writer of INSEXTS, A-Force, and Bombshells and the artist of SUPERZERO, comes the fifth collected volume chronicling a new kind of road trip, a new kind of black comedy, and a new kind of coming-of-age. Contains issues 19-24!
---