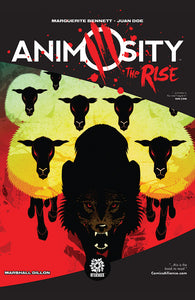 Animosity: The Rise Hardcover
Regular price
$3.99
$0.00
Unit price
per
"The Animals thought, spoke and took revenge. The dust has settled and the blood has dried, but a new force is rising in the West, ready to help Animal-kind seize power in the dark new world to come..."
A city by the sea rises, ruled by animals who become more human and humans who become more animal. All the while, Adam, an imprisoned veterinarian, works on the technology that would give his captors the strength to change the world...
This oversized hardcover edition, printed in the European Graphic Album size of 8.4 x 11.6, collects all three issues of this spin-off from the fan-favorite ANIMOSITY series.
---