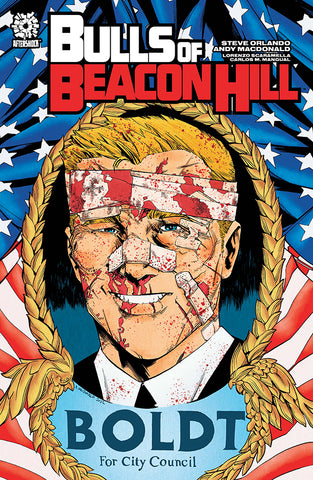 Release: 2023-09-27
Order Code: JUL230869
Revenge is a family thing.
Doctor Christopher Boldt has everything he ever wanted: A successful career as a surgeon, a supportive and loving boyfriend, and an overload of hype on his rumored run for Boston City Council. But there's one problem – it's all held up by a lie. For years, Chris has been hiding in plain sight, desperate not to be connected to his father, Orin Paige, one of Boston's most notorious gangsters.
Until now, Chris has been able to live with the secret. And Chris's father has been just as happy to deny any connection to his queer son, who he sees as a liability in the mob world. Now, Chris's political aspirations have put father and son on a collision course. A collision course bathed in blood.
From Eisner and GLAAD Award-Nominated writer Steve Orlando (Extreme Carnage, Midnighter, Darkhold, KILL A MAN, SEARCH FOR HU) and artist Andy MacDonald (Rogue Planet, Loki, MY DATE WITH MONSTERS, I BREATHED A BODY), comes a story of family secrets and violent retribution.
This collection contains the entire series, issues #1-5.
At Comic Shops September 27, 2023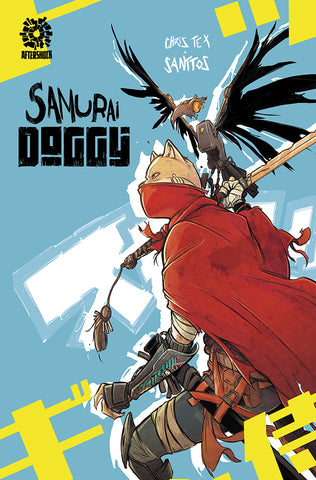 Release: 2023-09-27
Order Code: APR230962
Careful. He bites.
During the Fourth War of the Sun, a small dog named DOGGY experienced an irreparable trauma: his mother was brutally murdered, and his eight brothers, still puppies, were kidnapped by a mysterious man. To save them, Doggy fought bravely against the terrible killer, but all his efforts were in vain, and he was left for dead. What nobody imagined was that a technological vulture scavenging the region for corpses would be the one to rescue the dying dog from death's scythe.


Now, Doggy has become Samurai Doggy, and his only goal is to quench his thirst for revenge.

Written by Chris Tex (BlackOut) and illustrated by Santtos (LAND OF THE LIVING GODS, BlackOut, Night Shift), SAMURAI DOGGY is a story of loss, revenge and the journey to defeat the greatest empire of machines and robots that has ever existed.

This 192-page volume contains the entire first volume, issues #1-6.

At Comic Shops September 27, 2023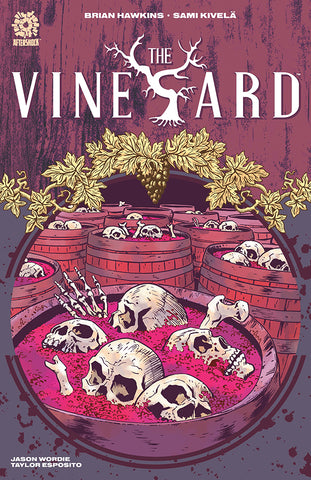 Release: 2023-09-27
Order Code: APR230961
Wine to die for.
THE VINEYARD is a family-owned winery that sows and reaps by the blessing of the great god of wine and revelry, Dionysus. However, the Vines family's patron god requires complete devotion in the form of four sacrificial killings a year before each harvest. This has been done in unfettered obeisance. But all of that changed when the family's patriarch, Didache Vines, was in a horrible accident that left him paralyzed and in a wheelchair.

Now, the sacrificial and murderous duties of the Vines family have fallen to wife and matriarch, Maranatha Vines. With harvest season fast approaching and the family short of their annual sacrificial killings, Maranatha's struggle with her conscience puts all of her family – husband, son and daughter – in jeopardy.

Written by Brian Hawkins (Black Cotton, Believe in the Name, Don't Ever Blink) and illustrated by Sami Kivelä (CHICKEN DEVIL, UNDONE BY BLOOD, Abbott), THE VINEYARD is what happens when family values and otherworldly obligations collide.

This 104-page volume contains the entire series, issues #1-4.
At Comic Shops September 27, 2023