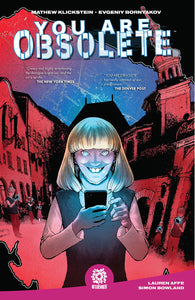 You Are Obsolete: The Complete Series TPB
Regular price
$16.99
$0.00
Unit price
per
Beware the Children!
A disgraced journalist is called to cover a mysterious story on an isolated European Island. As she investigates, she discovers the children have taken control and are somehow killing off all adults by their 40th birthdays. Now, she must discover the truth behind the killings while staying on the good side of the children's harsh leader…or she's next. Collects issues #1-5 of the spine-tingling hit series.
"A terrifying thrill ride of a mystery that makes you more and more curious as you read it. 10/10."  – Ronnie Gorham, AIPT!
---